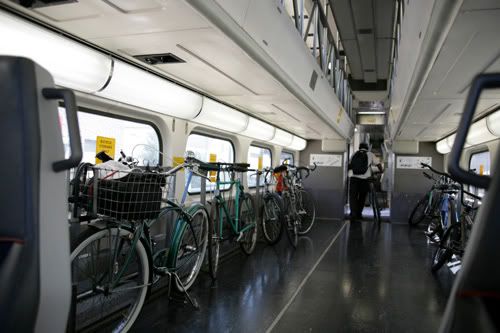 Every morning I hear the horn of the express train and rush around to finish my routine, run downstairs, fling myself on my bike and speed down the long block to the train station. There are five minutes between the express and the local train and I'm always late. CalTrain runs between San Jose and San Francisco. The trains are double-deckers and the bike car is the northernmost car in the train. I stand on the platform panting among the other bikers as the train pulls in. We wait for the passengers to get off, watch seven to ten bikers wrest themselves from the train, wait for Menlo passengers to board, then start lifting our bikes into the train. There are almost always one or two male bikers who try to be polite and let me go ahead. It's a nice gesture, but wastes time. I wave them ahead, "I'm getting off at the next stop, go!" The doors are usually closing as I barely make it into the train.
Tthere is usually a log-jam in the bike train. People try to rack their bikes in reverse order for who is getting off first. I don't even bother to put my bike away, and usually don't even bother to try to get into the bike train at all. I wait in the 'hall' between the two cars and end up chatting with the train conductors. I'm getting to know the ones who are bikers and love to tell me what equipment I should add to my bike, the fun guy who likes to tell me stories of other passengers and the strict ones who don't want to talk at all. I'm often asked why I bother to ride the train, why not bike the whole way? It saves me five miles of riding on one of the busiest roads in the area. Instead I take the train one stop, get off, take back roads through a middle-class Hispanic neighborhood (where a cute 2-bedroom/1-bath goes for 'only' $580,000). I venture onto a busy road for only five-hundred yards and then veer off onto a bike path.
I breathe deep as I pedal along a newly-laid bike path with a national wetland on my right. There's almost always a snowy egret poised over a rivulet waiting to pounce on fish. Various bands of migrating birds paddle through the water or walk with delicate steps through the shallows. This morning a red-wing blackbird sang at me as I passed. Sparrows dart ahead of me and zip through the chain-link fence. It's much easier to start the day after that brief five minute reminder that the world is bigger than me and all the silly deadlines I have at work.